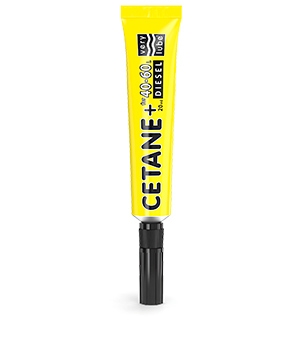 Новинка
Available in package:
Buy the original products in our official branches.
Cetane+
Additive for increase of cetane rating of diesel fuel
Increases cetane rating of diesel fuel up to 7 points. Increases fuel combustion efficiency and decreases fuel consumption.
Advantages
Increases cetane rating up to 7 points.
Reduces metal knocking, caused by hard combustion of low-quality diesel fuel.
Increases engine capacity and acceleration capability.
Increases engine stable operation at idle and in operation mode.
Provides easy start of an engine.
Applications
Squeeze the contents of the tube into the fuel tank before fueling.
Drive your car as you normally do.
Dosage
20 ml (1 tube) for 40-60 L of fuel
Notes
Compatible with all fuel grades.
Safe for particulate filter.
Does not reduce efficiency of other additives.
For optimal effect it is recommended to apply with every fueling.
Expert's Advice
If you don't want to drop the tube into a tank, squeeze the contents into the fuelling nozzle and fill the car.